Planning for 2012
As 2011 comes to an end, it is time to begin planning for 2012. Currently the economy has added about 1.5 MM jobs in 2011 and the manufacturing sector has been growing for over 24 months. US manufacturers are cautiously optimistic.
Some of you won't be planning for 2012… but hoping for 2012. The reason why I say HOPING is because some organizations will NOT put systems in place to get improved results and will do the same things they did in 2011 but HOPE for different results.
If you want improved sales year after year, you need to put a system in place like a sales contact management system/customer relationship management (CRM) system.
These systems allow you to:
Track all of your Prospects in your Sales Pipeline
Track Every Time One of Your Sales People Contacts a Prospect/Customer
Track all Follow Up Tasks so Nothing Falls Through the Cracks
This allows your organization to:
Sell More
Shorten Your Sales Cycle
Increase Your Average Sale
= INCREASED REVENUES !!!!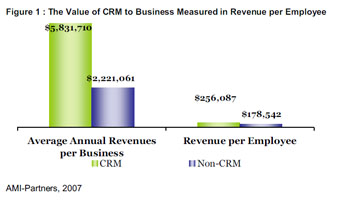 From the diagram above, companies with a sales contact management/CRM system average $256,087 per employee while companies without a CRM system average $178,542 per employee. That is 43% MORE SALES PER EMPLOYEE. Also, companies with a CRM system average $5,831,710 in annual revenue compared to $2,221,061 for companies without one. That is over 260% MORE SALES.
Although we have our own CRM product, xRP, the best CRM system for any company...IS THE CRM SYSTEM YOU ACTUALLY USE. Any CRM system that you fully leverage can help you increase your sales by 43% per employee.
Contact us if you have any questions about evaluating a CRM system or strategies to better leverage your existing CRM system.
Thanks,
Ben Moore
President
Agent Technologies, Inc.