CRM for Manufacturers (Part 2)
Last month we defined Customer Relationship Management (CRM) as a company wide strategy for delivering HIGHER PROFITS to your organization by:
1) Increasing Sales - Finding, attracting, and winning new clients
2) Increasing Sales - Nurturing and retaining existing clients
3) Increasing Sales - Enticing former clients back into the fold
4) Lowering Costs - By reducing the costs of marketing and client service
The promise of Higher Profits and Increased Sales is nice, but can we quantify that increase in sales?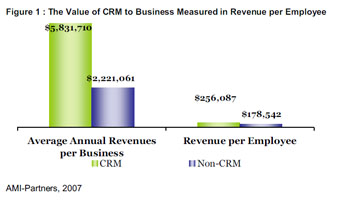 From the diagram above, companies with a CRM system average $256,087 per employee while companies without a CRM system average $178,542 per employee. That is 43% MORE SALES PER EMPLOYEE. Also, companies with a CRM system average $5,831,710 in annual revenue compared to $2,221,061 for companies without one. That is over 260% MORE SALES.
When evaluating a CRM System, below are a couple of items to consider:
| | | |
| --- | --- | --- |
| 1) | Contact Management | Tracking and Managing Every Contact and Its Information |
| 2) | Lead Management | Tracking Leads and Contacts through the Sales Process |
| 3) | Forecasting | Forecasting Potential Sales |
| 4) | Task Management | Managing Follow Up Tasks and To Do Items |
| 5) | Reporting | Automatic Reporting of Customer, Order and Management Metrics |
| 6) | Alerts | Alert Users of Tasks, Activities, etc. |
| 7) | Campaign Management | Creating and Managing Leads and Prospects Through Campaigns |
| 8) | Quota Management | Managing Sales Team to Individual Quotas/Territories |
| 9) | System Integration | Integrating with Other Business Systems (Financial, Operational, etc.) |
| 10) | Hosted/On-Premise | Is Solution Hosted (Off-Site) or On-Premise |
These are just some of the items covered in our CRM for Manufacturers Seminar. For a copy of the handouts, just reply to this email requesting a copy.
Although we have our own CRM product, xRP, the best CRM system for any company...IS THE CRM SYSTEM YOU ACTUALLY USE. Any CRM system that you fully leverage can help you increase your sales by 43% per employee.
Contact us if you have any questions about evaluating a CRM system or strategies to better leverage your existing CRM system.
Thanks,
Ben Moore
President
Agent Technologies, Inc.