CRM for Manufacturers
CRM stands for Customer Relationship Management and is a widely-implemented strategy for managing a company's interactions with customers, clients and sales prospects. It involves using technology to organize, automate, and synchronize business processes—principally sales activities, but also those for marketing, customer service, and technical support. The overall goals are to find, attract, and win new clients, nurture and retain those the company already has, entice former clients back into the fold, and reduce the costs of marketing and client service. Customer relationship management describes a company-wide business strategy including customer-interface departments as well as other departments (Wikipedia Definition).

What does that mean? CRM means HIGHER PROFITS by:
1) Increasing Sales - Finding, attracting, and winning new clients
2) Increasing Sales - Nurturing and retaining existing clients
3) Increasing Sales - Enticing former clients back into the fold
4) Lowering Costs - By reducing the costs of marketing and client service
Why it is so important for manufacturing...because manufacturing in many cases has a complex sales process.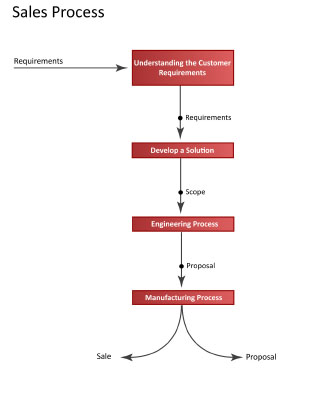 From the figure above, it shows the manufacturing sales process involving:
1) Understanding Customer Requirements
2) Developing a Solution
3) Incorporating Engineering
4) Developing a Manufacturing Process
5) Finishing with a Proposal as the Output
The proposal MAY or MAY NOT turn into an actual sale. This makes it critical to document all of the requirements, all learnings from interactions with the potential client, concerns in the engineering and manufacturing processes, any customer insight gathered over the months to years of the sales process and follow-up task reminders to give your organization the best chance of winning this project in a global environment.
Want to find our more about CRM for Manufacturers?
Attend one of the FREE CRM for Manufacturers Seminars to learn:
1) Why manufacturing companies need CRM systems
2) How to evaluate CRM systems and learn what technology will be important for your company
3) How to fully leverage a CRM system in your organization
Date: 5/26/2011
Time: 9:00AM - 11:00AM
Location:
TechSolve
6705 Steger Drive
Cincinnati, OH 45237
Fee: Free
Register: Register

Date: 6/14/2011
Time: 8:30AM - 10:30AM
Location:
The Entreprenuers Center
714 East Monument Ave.
Dayton, OH 45402
Fee: Free
Register: Register
Thanks,
Ben Moore
President
Agent Technologies, Inc.