US Manufacturing Output
vs. Other Countries
US Manufacturing is almost back to 2006 output levels and close to 2006 labor costs while countries like Canada, Italy, Germany, Japan and the UK's output levels have declined and labor costs have increased.
Canada, Italy, Japan and Italy's manufacturing output is down 10-15% from 2006, while Germany's manufacturing output is down around 5 %. Also, labor costs have increased around 10% for these countries since 2006.
This contrasts with the US Manufacturing output being around the same level of 2006 and decreased labor costs versus 2006 labor costs. Some of this productivity increase has come due to investment in automation while other countries, like Germany, have invested less in automation and in some cases has used manufacturing as a jobs program allowing increased labor costs per unit of manufacturing output.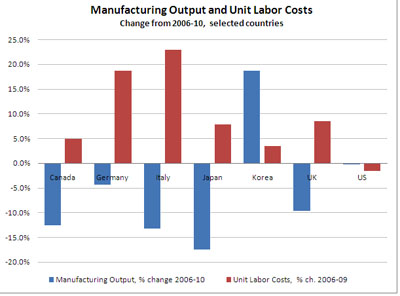 Chart from The Street Light by Kash Mansori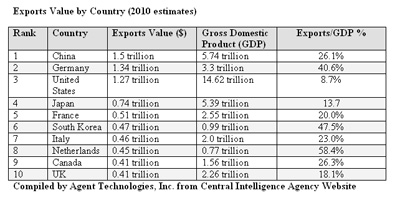 The Chart above shows the top 10 countries listed by value of exports ($) with their Gross Domestic Product and Exports/GDP %. The top 10 countries average about a 28% exports/GDP percentage, while the US has only a 8.7% exports/GDP ratio. US companies have a lot of room to grow as they increase their exports to the world instead of the US consumer driving the world economy....hence a very bright outlook for US Manufacturers.
Thanks,
Ben Moore
Agent Technologies, Inc.