In today's reality, manufacturers all over the world have to increase their speed of innovation in order to compete. The Engineering Pyramid was a methodology we helped implement in P&G Babycare to move from 600 support engineers to less than 125 support engineers. HOW…moving your engineering workforce to more configuration engineering instead of designing from scratch; this involves moving your engineering organization from working primarily with fabricated and commercial parts to complete assemblies.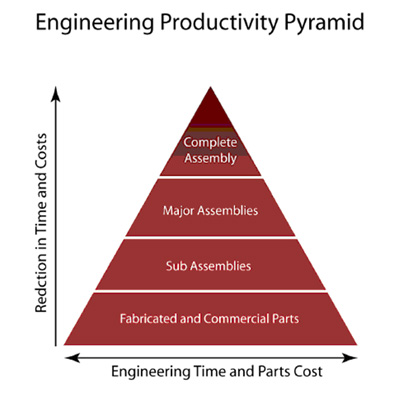 The Engineering Pyramid Methodology
Take advantage of the parts and assemblies that already have most of the common components and use them as the basis of the next piece of equipment
Parts and assemblies must be designed to support reuse in many applications
Engineers need to pay attention on how assemblies are structured and the interfaces to these assemblies to get the assemblies to be reused
Develop the system from the top-down

Implementing The Engineering Pyramid:
A. Develop the system from a top-down approach.
Functionally describe what you are building on the top level before executing the design.
Begin with a top-down approach by defining the highest level assembly before defining lower level assemblies.
Work your way down to the detail level making sure all constraints at the upper level are being followed.
Design the interfaces in a common format between functions
B. Use a documentation system that flows from top down. (In most engineering systems documentation flows from the bottom up.)
Connect all information to the entity/part.
Document in a way that if the higher assembly is reused, all the information travels with it.
Establish relationships from the assemblies that flow from the top down.
Allow users to drill down into the level of detail they need.
Create views of the information for different users
Example: A person that operates the equipment needs a different level of information than a person that maintains the equipment.
C. Leverage the Engineering Pyramid
Train on: Design for re-use, Leveraging component interfaces and Design using the top-down approach
Reward people for re-application of existing components.
Reap Profitable Innovation
Those who adapt this methodology will be the low cost, fast producer for their industry. If you need help in speeding innovation at your company, check out my book: The Consumer's Workshop: The Future of American Manufacturing ( http://www.amazon.com/Consumers-Workshop-Future-American-Manufacturing/dp/1419654454/sr=8-1/qid=1171058776/ref=sr_1_1/105-7417071-6070047?ie=UTF8&s=books ) or contact me.
Ben Moore
Agent Technologies, Inc.
Continue to blog about this article at: http://xrpsystem.blogspot.com