Increasing Sales in 2013
The findings of a recent IHS Report are:
China has or will lose its low-cost status over the next 3 years

Over the next decade, wages of Chinese workers are expected to double

The average Chinese manufacturing worker is only 40% as productive as the same US worker

Manufacturing in China offers almost no energy or raw material cost benefit
The result…some Chinese manufacturing will be going to the United States, Indonesia and Mexico. So how can American Manufacturers benefit the most from this trend, by putting additional systems in your business to get more productive and globally cost competitive.
One of the lowest hanging fruits is a Customer Relationship Management (CRM) system – which is a company wide strategy for delivering HIGHER PROFITS to your organization by:

1) Increasing Sales - Finding, attracting, and winning new clients
2) Increasing Sales - Nurturing and retaining existing clients
3) Increasing Sales - Enticing former clients back into the fold
4) Lowering Costs - By reducing the costs of marketing and client service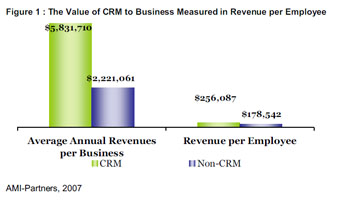 From the diagram above, companies with a CRM system average $256,087 per employee while companies without a CRM system average $178,542 per employee. That is 43% MORE SALES PER EMPLOYEE. Also, companies with a CRM system average $5,831,710 in annual revenue compared to $2,221,061 for companies without one. That is over 260% MORE SALES.
When evaluating a CRM System, below are a couple of items to consider:
| | | |
| --- | --- | --- |
| 1) | Contact Management | Tracking and Managing Every Contact and Its Information |
| 2) | Lead Management | Tracking Leads and Contacts through the Sales Process |
| 3) | Forecasting | Forecasting Potential Sales |
| 4) | Task Management | Managing Follow Up Tasks and To Do Items |
| 5) | Reporting | Automatic Reporting of Customer, Order and Management Metrics |
| 6) | Alerts | Alert Users of Tasks, Activities, etc. |
| 7) | Campaign Management | Creating and Managing Leads and Prospects Through Campaigns |
| 8) | Quota Management | Managing Sales Team to Individual Quotas/Territories |
| 9) | System Integration | Integrating with Other Business Systems (Financial, Operational, etc.) |
| 10) | Hosted/On-Premise | Is Solution Hosted (Off-Site) or On-Premise |
Feel free to sign up for a FREE trial of xRP – Our Online CRM System and More.

Although we have our own CRM product, xRP, the best CRM system for any company...IS THE CRM SYSTEM YOU ACTUALLY USE. Any CRM system can help you increase your sales by 43% per employee.

Thanks,
Ben Moore
President
Agent Technologies, Inc.

The Consumer's Workshop: the future of American manufacturing
The Consumer's Workshop: The Future of American Manufacturing is a hand book on how to setup the systems within your company and create the workforce you need to be successful now and in the future. Written by authors that have worked at some of America's largest manufacturers, founded their own manufacturing organizations and helped numerous small manufacturers grow.
The Consumer's Workshop: The Future of American Manufacturing is a must read for today's business leaders. It is insightful and provocative in its approach to where US manufacturing has been, how manufacturing got into the troubles it faces today and what we need to do to become the standard for world class once again. If we want to know how to regain that competitive edge once again, the roadmap is certainly the pages of The Consumer Workshop.
-- Bruce Vaillancourt,Director, NIST MEP Program, TechSolve, Inc.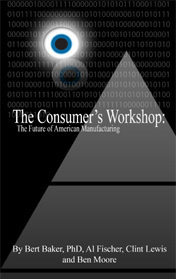 The Consumer's Workshop is an extremely timely review of how manufacturing strategy developed in the past
and how it will change in the future. The author team clearly demonstrates that companies have to change -- and provide plenty of advise how such a change should take place."
-- Frank Piller, PhD, International Manufacturing Consultant
As the authors make clear, eventually American manufacturing will become the workshop for direct production of consumer's own designs -- or it will be no more. Begin that path by following the steps outlined here."
-- B. Joseph Pine II, author, Mass Customization: The New Frontier in Business Competition
Investment: $12.99
In This Issue
Increasing Sales in 2013
xRP: Free 30 Day Trial
Manufacturing Statistics December 2012
Online CRM / ERP Solution
Base Subscription:
$9 per Month per User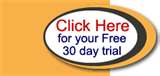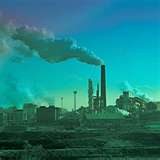 Manufacturing Statistics
1) Industrial production increased 1.1% in November 2012. Manufacturing production increased 1.1% in November 2012. Source: Federal Reserve Board

2) Nonfarm payroll employment increased by 146,000 in November 2012. Manufacturing employment decreased by 15,000. Unemployment rate dropped to 7.7% nationally. Source: Bureau of Labor
Statistics
3) Manufacturing Trade Deficit increased to $42.2 billion in October 2012 on exports of $180.5 billion and imports of $222.8 billion. Sources: Census Bureau, Bureau of Economic Analysis

4) New orders for durable manufactured goods in October 2012 increased $3.8 billion or 0.8% to 477.6 billion. Source: Census Bureau

5) Inventories of manufactured durable goods in October 2012 increased $1.7 billion or 0.4% to $374.5 billion. Source: Census Bureau